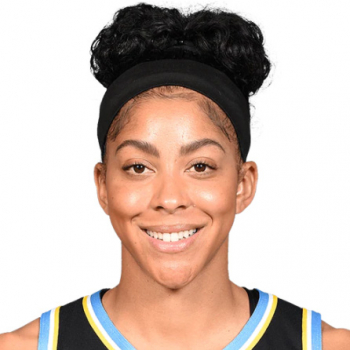 Candace Nicole Parker (born April 19, 1986) is an American professional basketball player for the Chicago Sky of the Women's National Basketball Association (WNBA). She was selected as the first overall pick in the 2008 WNBA Draft by the Los Angeles Sparks.

A versatile player, Parker mainly plays the forward and center position. In high school, Parker won the 2003 and 2004 Gatorade National Girls Basketball Player of the Year awards, becoming just the second junior and the only woman to receive the award twice. As a college player for Tennessee, she led the team two consecutive national championships (2007, 2008), was named the Final Four's most outstanding player in both occasions, and was a two-time consensus national player of the year. As a redshirt freshman, she became the first woman to dunk in an NCAA tournament game and the first woman to dunk twice in a college game. After being selected in the WNBA Draft, Parker signed long-term endorsement deals with Adidas and Gatorade.

In 2016, Parker helped the Sparks to win their first WNBA Finals title since 2002. Parker has won two WNBA Most Valuable Player Awards (2008, 2013), a WNBA Finals MVP Award (2016), a WNBA All-Star Game MVP Award (2013), two Olympic gold medals (2008, 2012), and the WNBA Rookie of the Year Award (2008). She has been selected to six All-WNBA teams and five All-Star teams, and was the first player to win the Rookie of the Year and the WNBA Most Valuable Player Award in the same season. Parker became the second player to dunk in a WNBA game on June 22, 2008.

In 2019, Parker became an analyst for NBA games on TNT and NBA TV, covering Tuesday games during the 2019-20 NBA season.