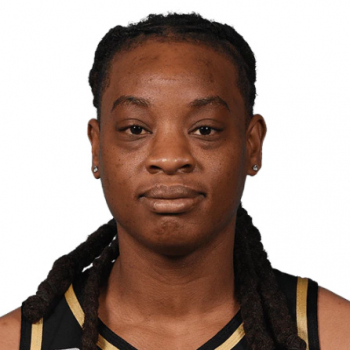 Riquna "Bay Bay" Williams (born May 28, 1990) is an American basketball player for the Las Vegas Aces of the Women's National Basketball Association (WNBA). She played collegiately for the Miami Hurricanes of the University of Miami, where she majored in sports administration.

Riquna's nickname is Bay Bay. She is the youngest of five children. As a senior in high school she averaged 32.5 points per game at Pahokee High School. As a freshman at the University of Miami she averaged 8.7 points per game, including a season high of 23 points against Clemson.

She was first discovered during the summer going into her senior year of high school playing for Team Breakdown.

She emerged as one of the best scorers in the country in her sophomore year, and averaged 19.6 points per game. She was named to the All-ACC Second Team her sophomore year

Williams was named to the pre-season Wooden watch list, a list of players under consideration for the John R. Wooden Award, which will be presented to the outstanding player of the year at the end of the season.
GAMES

Phoenix Mercury
76

Las Vegas Aces
93

Las Vegas Aces
84

Phoenix Mercury
87

Phoenix Mercury
88

Las Vegas Aces
106

Las Vegas Aces
85

Seattle Storm
74

Washington Mystics
89

Las Vegas Aces
76

Atlanta Dream
73

Las Vegas Aces
96

Las Vegas Aces
86

Phoenix Mercury
74

Las Vegas Aces
93

Minnesota Lynx
87

Las Vegas Aces
100

Phoenix Mercury
80

Las Vegas Aces
104

Los Angeles Sparks
76

Chicago Sky
76

Las Vegas Aces
83

Las Vegas Aces
89

Connecticut Sun
81

Las Vegas Aces
90

Connecticut Sun
97

Las Vegas Aces
84

Dallas Wings
78

Los Angeles Sparks
72

Las Vegas Aces
89

Dallas Wings
84

Las Vegas Aces
92

Las Vegas Aces
96

Minnesota Lynx
95

Las Vegas Aces
95

Chicago Sky
104

Las Vegas Aces
86

Washington Mystics
87

Los Angeles Sparks
73

Las Vegas Aces
79

Seattle Storm
88

Las Vegas Aces
78

Minnesota Lynx
85

Las Vegas Aces
91

Minnesota Lynx
102

Las Vegas Aces
71

Las Vegas Aces
107

New York Liberty
116

Las Vegas Aces
107

New York Liberty
101

Las Vegas Aces
108

New York Liberty
74

Las Vegas Aces
91

Connecticut Sun
83

Atlanta Dream
92

Las Vegas Aces
76

Indiana Fever
77

Las Vegas Aces
90

Los Angeles Sparks
66

Las Vegas Aces
84

Las Vegas Aces
93

Chicago Sky
83

Las Vegas Aces
93

Indiana Fever
72

Las Vegas Aces
94

Indiana Fever
69

Las Vegas Aces
73

Washington Mystics
83

Las Vegas Aces
80

Dallas Wings
82

Las Vegas Aces
89

Seattle Storm
81

Atlanta Dream
90

Las Vegas Aces
97

Chicago Sky
78

Las Vegas Aces
89

Seattle Storm
100

Las Vegas Aces
109

Phoenix Mercury
63

Las Vegas Aces
79

Phoenix Mercury
80

Las Vegas Aces
117

Seattle Storm
76

Las Vegas Aces
73

Seattle Storm
73

Las Vegas Aces
78

Las Vegas Aces
110

Seattle Storm
98

Las Vegas Aces
97

Seattle Storm
92

Connecticut Sun
64

Las Vegas Aces
67

Connecticut Sun
71

Las Vegas Aces
85

Las Vegas Aces
76

Connecticut Sun
105