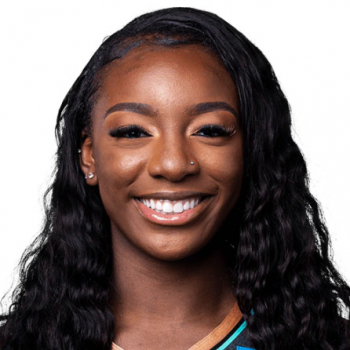 Michaela Nne Onyenwere (born August 1, 1999) is a Nigerian-American basketball player for the New York Liberty of the Women's National Basketball Association (WNBA). She played college basketball with the UCLA Bruins of the Pac-12 Conference.

In high school, Onyenwere was named a McDonald's All-American in 2017. Following the 2017–18 season, Onyenwere was named to the Pac-12 All-Freshman Team.

In the 2018–19 season, Onyenwere's sophomore season, she was named to the All-Pac-12 team and to the Media All-Pac-12 team, and she ranked second in the Pac-12 for offensive rebounds per game. After that season, she earned on a spot on the 2019 U.S. Pan-American Games Women's Basketball Team.

In the 2019–20 season, Onyenwere was again named to the All-Pac-12 team, along with her teammate Japreece Dean.
GAMES

New York Liberty
81

Connecticut Sun
79

Chicago Sky
83

New York Liberty
50

New York Liberty
86

Indiana Fever
92

New York Liberty
71

Dallas Wings
81

New York Liberty
65

Connecticut Sun
92

Minnesota Lynx
84

New York Liberty
78

Seattle Storm
79

New York Liberty
71

Seattle Storm
92

New York Liberty
61

New York Liberty
87

Indiana Fever
74

Washington Mystics
70

New York Liberty
74

New York Liberty
77

Minnesota Lynx
84

New York Liberty
88

Minnesota Lynx
69

Indiana Fever
83

New York Liberty
97

New York Liberty
86

Chicago Sky
88

New York Liberty
77

Washington Mystics
65

New York Liberty
72

Seattle Storm
81

Connecticut Sun
77

New York Liberty
81

Atlanta Dream
77

New York Liberty
89

New York Liberty
81

Atlanta Dream
92

Los Angeles Sparks
84

New York Liberty
74

Las Vegas Aces
107

New York Liberty
116

Phoenix Mercury
84

New York Liberty
81

Las Vegas Aces
107

New York Liberty
101

Las Vegas Aces
108

New York Liberty
74

New York Liberty
63

Connecticut Sun
82

New York Liberty
69

Washington Mystics
78

Chicago Sky
80

New York Liberty
83

New York Liberty
81

Chicago Sky
89

Phoenix Mercury
69

New York Liberty
89

Los Angeles Sparks
73

New York Liberty
102

Los Angeles Sparks
61

New York Liberty
64

New York Liberty
62

Phoenix Mercury
76

New York Liberty
77

Dallas Wings
86

New York Liberty
91

Dallas Wings
73

New York Liberty
80

Atlanta Dream
70

Atlanta Dream
83

New York Liberty
87

New York Liberty
98

Chicago Sky
91

New York Liberty
62

Chicago Sky
100