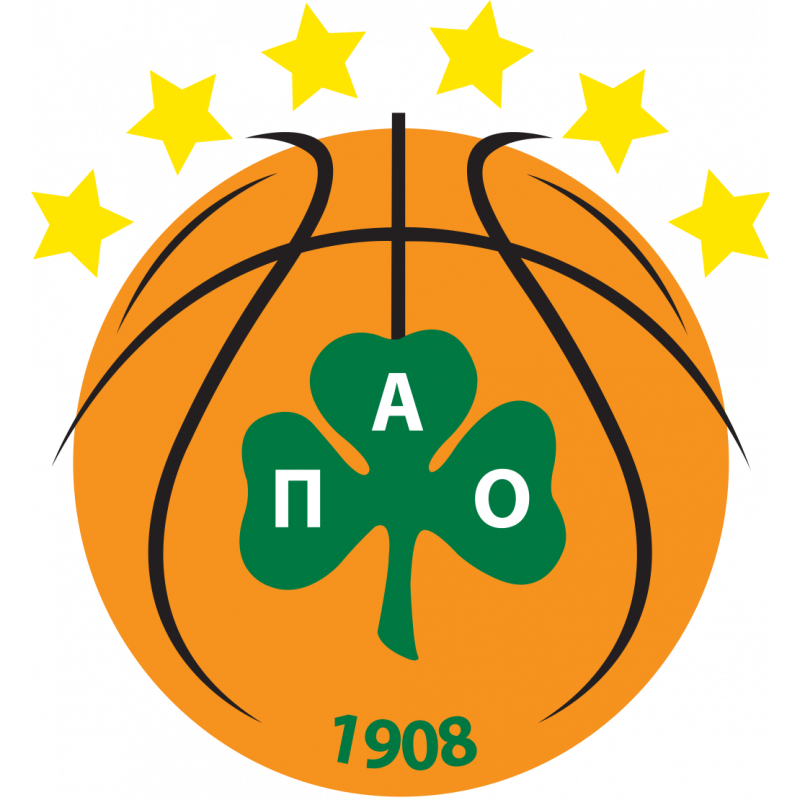 Athens Panathinaikos
Panathinaikos B.C., also known simply as Panathinaikos, or by its current name Panathinaikos B.C. OPAP for sponsorship reasons, is the professional basketball team of the major Athens-based multi-sport club Panathinaikos A.O. It is owned by the billionaire Giannakopoulos family.

The parent athletic club was founded in 1908, while the basketball team was created in 1919, being one of the oldest in Greece. Alongside Aris, they are the only un-relegated teams with participation in every Greek First Division Championship until today.

Panathinaikos has developed into the most successful basketball club in Greek basketball's history, and one of the most successful in European basketball, creating its own dynasty. They have won six EuroLeague Championships, thirty-nine Greek Basket League Championships, twenty Greek Cups, one Intercontinental Cup, one Greek Super Cup and two Triple Crowns. They also hold the record for most consecutive Greek League titles, as they are the only team to have won nine consecutive championships (2003–2011), as well as for the most consecutive Greek Basketball Cup titles, winning six from 2012 to 2017. Panathinaikos counts one more championship that took place in 1921 and was organized by the YMCA. It is however not recognized by the Hellenic Basketball Clubs Association, as it was before the creation of the Hellenic Basketball Federation. The team plays its home games in the O.A.C.A. Olympic Indoor Hall, which has a maximum capacity of 19,250 for basketball games. Panathinaikos also holds the world record for the longest title-winning streak, spanning 27 seasons, starting in 1995-96 and continuing up until today. These last 27 years, Panathinaikos have won at least one title each season and 43 titles overall.

Among the numerous well-known top class players who have played with the club over the years are Dominique Wilkins, Fragiskos Alvertis, Byron Scott, Nick Galis, John Salley, Dimitris Diamantidis, Antonio Davis, Stojko Vranković, Dino Rađja, Šarūnas Jasikevičius, Dejan Bodiroga, Oded Kattash, Ramūnas Šiškauskas, Panagiotis Giannakis, Fanis Christodoulou, Alexander Volkov, Marcelo Nicola, Hugo Sconochini, Željko Rebrača, Antonis Fotsis, İbrahim Kutluay, John Amaechi, Nikola Peković, Jaka Lakovič, Pepe Sánchez, Kostas Tsartsaris, Mike Batiste, Nick Calathes, Vassilis Spanoulis, Dejan Tomašević, Byron Dinkins, Ferdinando Gentile, Sani Bečirovič, Darryl Middleton, Lazaros Papadopoulos, Žarko Paspalj, Nikos Chatzivrettas, Dimos Dikoudis, Tiit Sokk, Sofoklis Schortsanitis, Jason Kapono, Arijan Komazec, Edgar Jones, Romain Sato, Johnny Rogers, Tony Delk, Drew Nicholas, Stéphane Lasme, Roko Ukić, Robertas Javtokas, Jonas Mačiulis, Ioannis Bourousis, James Gist, Keith Langford and Jimmer Fredette. Such players, the successful management of former long-time presidents Pavlos Giannakopoulos and Thanasis Giannakopoulos, as well as the long-time guidance of the most successful coach in EuroLeague history, Željko Obradović, turned Panathinaikos into the most successful team in Europe over the last two-and-a-half decades.

Panathinaikos is the only team on the European continent to win as many as six EuroLeague titles (1996, 2000, 2002, 2007, 2009, 2011), since the establishment of the modern era EuroLeague Final Four format in 1988 (no other club has won more than four EuroLeague championships in this period). They were also EuroLeague runners-up in 2001. They reached the EuroLeague Final Four eleven times altogether (1994, 1995, 1996, 2000, 2001, 2002, 2005, 2007, 2009, 2011, 2012).