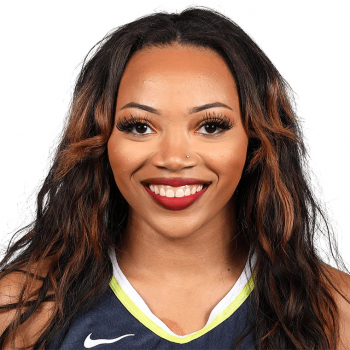 Unique Thompson (born July 27, 1999) is an American professional basketball player for the Dallas Wings of the Women's National Basketball Association (WNBA). She was chosen in the second round of the 2021 WNBA Draft by the Indiana Fever of the Women's National Basketball Association.

Thompson grew up in Theodore, Alabama, where she attended Faith Academy. She was the #74 overall recruit in her draft class and the #16 forward.

Thompson played college basketball at Auburn University. She averaged 14.1 points, 10.6 rebounds, 1.3 assists, 1.7 steals, and 0.6 blocks per game in college on a 52.8% field goal percentage. Thompson was an All-American honorable mention in 2020 and 2021. She was named to the All-SEC First Team in 2020 and the Second Team in 2021. She totaled 1,540 career points; 1,156 rebounds, making her Auburn's all-time leading rebounds; and 58 double-doubles, which is also a team record.

Thompson declared for the WNBA Draft in spring 2021. She is the ninth player in Auburn program history to be drafted and the first since 2009.
GAMES

Dallas Wings
59

Atlanta Dream
66

Washington Mystics
86

Dallas Wings
94

New York Liberty
71

Dallas Wings
81

Dallas Wings
68

Washington Mystics
84

Phoenix Mercury
84

Dallas Wings
94

Dallas Wings
94

Minnesota Lynx
78

Connecticut Sun
77

Dallas Wings
85

Connecticut Sun
99

Dallas Wings
68

Los Angeles Sparks
93

Dallas Wings
91

Seattle Storm
51

Dallas Wings
68

Las Vegas Aces
84

Dallas Wings
78

Dallas Wings
88

Seattle Storm
89

Dallas Wings
79

Seattle Storm
84

Dallas Wings
84

Las Vegas Aces
92

Dallas Wings
93

Phoenix Mercury
88

Dallas Wings
92

Los Angeles Sparks
82

Atlanta Dream
80

Dallas Wings
75

Dallas Wings
94

Indiana Fever
68

Dallas Wings
72

Phoenix Mercury
83

Minnesota Lynx
92

Dallas Wings
64

Dallas Wings
89

Los Angeles Sparks
97

Dallas Wings
82

Connecticut Sun
71

Dallas Wings
74

Seattle Storm
83

Dallas Wings
92

Minnesota Lynx
87

Chicago Sky
89

Dallas Wings
81

Dallas Wings
83

Chicago Sky
89

Dallas Wings
96

Indiana Fever
86

Washington Mystics
87

Dallas Wings
77

Dallas Wings
81

Atlanta Dream
68

Dallas Wings
84

Chicago Sky
78

Las Vegas Aces
80

Dallas Wings
82

Indiana Fever
91

Dallas Wings
95

New York Liberty
77

Dallas Wings
86

New York Liberty
91

Dallas Wings
73

Dallas Wings
74

Phoenix Mercury
86

Dallas Wings
116

Los Angeles Sparks
88

Dallas Wings
68

Connecticut Sun
93

Dallas Wings
89

Connecticut Sun
79

Connecticut Sun
73

Dallas Wings
58

Atlanta Dream
78

Dallas Wings
85

Dallas Wings
95

Seattle Storm
91

Dallas Wings
88

Chicago Sky
94

Minnesota Lynx
89

Dallas Wings
94

Dallas Wings
74

Washington Mystics
75

Dallas Wings
74

Connecticut Sun
80

Phoenix Mercury
79

Dallas Wings
84

Phoenix Mercury
77

Dallas Wings
90

Dallas Wings
93

New York Liberty
102

Los Angeles Sparks
79

Dallas Wings
61

Seattle Storm
109

Dallas Wings
103
Previous
Next