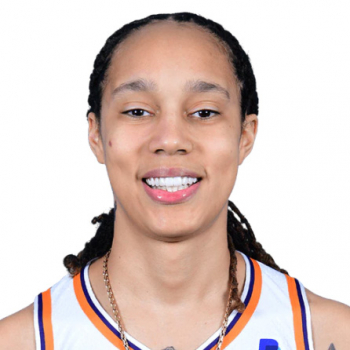 Brittney Yevette Griner (born October 18, 1990) is an American professional basketball player for the Phoenix Mercury of the Women's National Basketball Association (WNBA). She played college basketball for the Baylor Lady Bears in Waco, Texas. She is the only NCAA basketball player to score 2,000 points and block 500 shots. In 2012, the three-time All-American was named the AP Player of the Year and the Most Outstanding Player of the Final Four.

Standing 6 ft 9 in (206 cm) tall, Griner wears a men's US size 17 shoe and has an arm span of 87.5 in (222 cm).

In 2009, Griner was named the nation's #1 high school women's basketball player by Rivals.com. Griner was selected to the 2009 Phoenix Mercury All-American basketball team. In 2012, she received the Best Female Athlete ESPY Award. Griner was on the USA Olympic Women's team in 2016, where she helped lead them to victory at the 2016 Summer Olympics. In 2013, Griner signed an endorsement deal with Nike. In June 2021, it was announced that Griner would be competing as part of Team USA Women's Basketball at the 2020 Olympics.
GAMES

Phoenix Mercury
76

Las Vegas Aces
93

Las Vegas Aces
84

Phoenix Mercury
87

Phoenix Mercury
77

Chicago Sky
91

Phoenix Mercury
91

Chicago Sky
86

Chicago Sky
86

Phoenix Mercury
50

Chicago Sky
80

Phoenix Mercury
74

Phoenix Mercury
88

Las Vegas Aces
106

Phoenix Mercury
97

Seattle Storm
77

Seattle Storm
64

Phoenix Mercury
69

Las Vegas Aces
86

Phoenix Mercury
74

Phoenix Mercury
84

Dallas Wings
94

Las Vegas Aces
100

Phoenix Mercury
80

Los Angeles Sparks
99

Phoenix Mercury
94

Atlanta Dream
81

Phoenix Mercury
54

Chicago Sky
73

Phoenix Mercury
70

Phoenix Mercury
88

Connecticut Sun
92

Phoenix Mercury
81

Los Angeles Sparks
74

Phoenix Mercury
90

Atlanta Dream
88

Washington Mystics
90

Phoenix Mercury
99

Washington Mystics
83

Phoenix Mercury
65

Indiana Fever
80

Phoenix Mercury
93

Dallas Wings
93

Phoenix Mercury
88

Phoenix Mercury
71

Minnesota Lynx
84

Minnesota Lynx
100

Phoenix Mercury
88

Dallas Wings
72

Phoenix Mercury
83

Phoenix Mercury
83

Indiana Fever
71

Phoenix Mercury
99

Indiana Fever
78

Chicago Sky
91

Phoenix Mercury
75

Los Angeles Sparks
78

Phoenix Mercury
75

Phoenix Mercury
84

New York Liberty
81

Phoenix Mercury
107

Minnesota Lynx
118

Washington Mystics
75

Phoenix Mercury
80

Atlanta Dream
85

Phoenix Mercury
75

Seattle Storm
78

Phoenix Mercury
94

Los Angeles Sparks
80

Phoenix Mercury
90

Phoenix Mercury
69

New York Liberty
89

Phoenix Mercury
63

Connecticut Sun
87

Phoenix Mercury
64

Connecticut Sun
77

New York Liberty
62

Phoenix Mercury
76

Minnesota Lynx
86

Phoenix Mercury
77