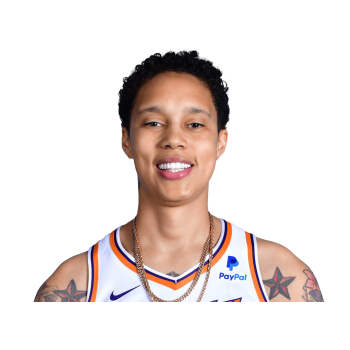 Brittney Yevette Griner (born October 18, 1990) is an American professional basketball player for the Phoenix Mercury of the Women's National Basketball Association (WNBA). She is a two-time Olympic gold medalist with the U.S. women's national basketball team and a six-time WNBA All-Star. She was additionally named one of the 100 most influential people in the world by Time magazine in 2023.

In 2009, Griner was named the nation's No. 1 high school women's basketball player by Rivals.com.[5] She was selected to the 2009 All-American basketball team. She played college basketball for the Baylor Lady Bears in Waco, Texas. She had a breakout senior year in 2012, as the three-time All-American was named the AP Player of the Year, the Most Outstanding Player of the Final Four, led Baylor in winning the National Championship, and won the Best Female Athlete ESPY Award. Griner is also the only NCAA basketball player to both score 2,000 points and block 500 shots.

Professionally, Griner was selected as the first overall pick in 2013 WNBA Draft by the Phoenix Mercury, with whom she won the 2014 WNBA championship.[ Standing 6 ft 9 in (206 cm) tall, Griner wears a men's U.S. size 17 shoe and has an arm span of 87.5 in (222 cm).

Griner led the U.S. national women's basketball team to victory at the Rio Olympics in 2016. In 2020, Griner protested "The Star-Spangled Banner" and stated she would not be on the court while the national anthem was played during game openers. Griner was named to the national team for the 2020 Olympics (held in 2021 in Tokyo, Japan), where she won her second gold medal. She is also a two-time FIBA Women's World Cup winner with Team USA (2014 and 2018)

On February 17, 2022, Griner was detained and arrested on smuggling charges by Russian customs officials after cartridges containing less than a gram of medically prescribed hash oil were found in her luggage. She had been playing basketball with the Russian Premier League during the WNBA off-season. Her trial began on July 1, and she pleaded guilty to the charges. On August 4, she was sentenced to nine years in prison. In November 2022, Griner was transferred to the Russian penal colony IK-2. US officials stated that she was "wrongfully detained". On December 8, Griner was released in a prisoner exchange for Russian arms dealer Viktor Bout.
GAMES

Phoenix Mercury
76

Las Vegas Aces
93

Las Vegas Aces
84

Phoenix Mercury
87

Phoenix Mercury
77

Chicago Sky
91

Phoenix Mercury
91

Chicago Sky
86

Chicago Sky
86

Phoenix Mercury
50

Chicago Sky
80

Phoenix Mercury
74

Phoenix Mercury
88

Las Vegas Aces
106

Phoenix Mercury
97

Seattle Storm
77

Seattle Storm
64

Phoenix Mercury
69

Las Vegas Aces
86

Phoenix Mercury
74

Phoenix Mercury
84

Dallas Wings
94

Las Vegas Aces
100

Phoenix Mercury
80

Los Angeles Sparks
99

Phoenix Mercury
94

Atlanta Dream
81

Phoenix Mercury
54

Chicago Sky
73

Phoenix Mercury
70

Phoenix Mercury
88

Connecticut Sun
92

Phoenix Mercury
81

Los Angeles Sparks
74

Phoenix Mercury
90

Atlanta Dream
88

Washington Mystics
90

Phoenix Mercury
99

Washington Mystics
83

Phoenix Mercury
65

Indiana Fever
80

Phoenix Mercury
93

Dallas Wings
93

Phoenix Mercury
88

Phoenix Mercury
71

Minnesota Lynx
84

Minnesota Lynx
100

Phoenix Mercury
88

Dallas Wings
72

Phoenix Mercury
83

Phoenix Mercury
83

Indiana Fever
71

Phoenix Mercury
99

Indiana Fever
78

Chicago Sky
91

Phoenix Mercury
75

Los Angeles Sparks
78

Phoenix Mercury
75

Phoenix Mercury
84

New York Liberty
81

Phoenix Mercury
107

Minnesota Lynx
118

Washington Mystics
75

Phoenix Mercury
80

Atlanta Dream
85

Phoenix Mercury
75

Seattle Storm
78

Phoenix Mercury
94

Los Angeles Sparks
80

Phoenix Mercury
90

Phoenix Mercury
69

New York Liberty
89

Phoenix Mercury
63

Connecticut Sun
87

Phoenix Mercury
64

Connecticut Sun
77

New York Liberty
62

Phoenix Mercury
76

Minnesota Lynx
86

Phoenix Mercury
77

Dallas Wings
74

Phoenix Mercury
86

Chicago Sky
82

Phoenix Mercury
67

Phoenix Mercury
63

Las Vegas Aces
79

Phoenix Mercury
80

Las Vegas Aces
117

Phoenix Mercury
71

Los Angeles Sparks
94

Chicago Sky
75

Phoenix Mercury
69

Minnesota Lynx
81

Phoenix Mercury
90

Los Angeles Sparks
99

Phoenix Mercury
93