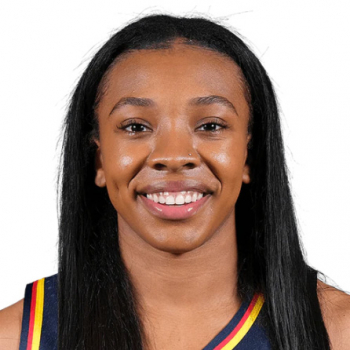 Aaliyah Wilson (born August 28, 1998) is an American professional basketball player for the Indiana Fever of the WNBA. She was selected 11th overall in the 2021 WNBA Draft by the Seattle Storm and was traded to the Fever before the start of the season.

Wilson is a native of Muskogee, Oklahoma. As a player as Muskogee High School, Wilson was named a McDonald's All-American and a Jordan Brand Classic All-American. She participated in Team USA trials in 2016 and 2017.

Wilson started her college career at the University of Arkansas. She transferred to Texas A&M after her freshman season. During her senior season, she received first All-SEC honors for her career, was named to the All-SEC second team as a graduate student and received AP All-American honors. She averaged 10,1 points, 4.7 points, 2 assists, 1.4 steals, and 0.75 blocks with a 41% field goal percentage.
GAMES

Washington Mystics
84

Indiana Fever
70

Indiana Fever
77

Los Angeles Sparks
87

Indiana Fever
82

Minnesota Lynx
76

New York Liberty
86

Indiana Fever
92

Indiana Fever
79

Atlanta Dream
85

Indiana Fever
79

Atlanta Dream
101

Connecticut Sun
94

Indiana Fever
85

Indiana Fever
70

Connecticut Sun
92

Chicago Sky
95

Indiana Fever
90

Indiana Fever
101

Los Angeles Sparks
96

Indiana Fever
75

Washington Mystics
87

New York Liberty
87

Indiana Fever
74

Atlanta Dream
75

Indiana Fever
66

Connecticut Sun
88

Indiana Fever
69

Indiana Fever
83

New York Liberty
97

Minnesota Lynx
80

Indiana Fever
84

Indiana Fever
80

Phoenix Mercury
93

Indiana Fever
89

Chicago Sky
87

Dallas Wings
94

Indiana Fever
68

Phoenix Mercury
83

Indiana Fever
71

Phoenix Mercury
99

Indiana Fever
78

Seattle Storm
73

Indiana Fever
57

Indiana Fever
73

Seattle Storm
95

Indiana Fever
84

Chicago Sky
93

Connecticut Sun
89

Indiana Fever
81

Minnesota Lynx
87

Indiana Fever
77

Indiana Fever
65

Seattle Storm
81

Indiana Fever
79

Los Angeles Sparks
86

Indiana Fever
77

Las Vegas Aces
90

Dallas Wings
96

Indiana Fever
86

Las Vegas Aces
93

Indiana Fever
72

Las Vegas Aces
94

Indiana Fever
69

Indiana Fever
81

Atlanta Dream
91

Indiana Fever
91

Dallas Wings
95

Washington Mystics
82

Indiana Fever
70

Indiana Fever
83

Washington Mystics
95

Connecticut Sun
70

Indiana Fever
61

Indiana Fever
73

New York Liberty
90

Indiana Fever
90

Atlanta Dream
87

Indiana Fever
78

Connecticut Sun
81

Las Vegas Aces
84

Indiana Fever
80

Indiana Fever
103

Chicago Sky
108

Indiana Fever
71

Minnesota Lynx
69

Phoenix Mercury
85

Indiana Fever
82

Washington Mystics
66

Indiana Fever
87

Indiana Fever
92

Chicago Sky
90

Atlanta Dream
100

Indiana Fever
94

Indiana Fever
80

Seattle Storm
68

Indiana Fever
88

Las Vegas Aces
101

Indiana Fever
80

Las Vegas Aces
88
Previous
Next